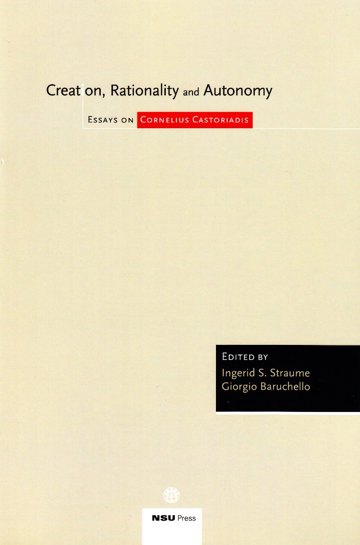 Creation, Rationality and Autonomy
Essays on Cornelius Castoriadis
En del af serien NSU-press , og fagområdet Filosofi og etik
Mere om bogen
Om bogen
Cornelius Castoriadis was one of the most original and creative thinkers of the 20th century. Between 2006 and 2009, the Nordic Summer University hosted a series of workshops on his thought that attracted partcipants from various disciplinary fields and nations. This colletion is a result from these encounters, with contributions from political philosophy, Hellenic studies, architecture, critique of ideology, pedagogy, sociology, phenomenology, phychology and psychoanalysis - and, true to the spirit of Castoriadis, combinations of these. Some authors are known Castoriadis scholars, while others are researchers in their own fields who have seen in Castoriadis a way to enrich their work.
Indholdsfortegnelse
Creation, Rationality and Autonomy: A brief introduction
Chaos and Creation in Castoriadis's Interpretation of Greek Thought
Origins as a Sign of Pathology in Architectural Thinking
Castoriadis, Arnason and the Phenomenological Question of the World
Odd Bedfellows: Cornelius Castoriadis on Capitalism and Freedom
From Modernity to Neoliberalism: What Human Subject?
Artistic Critique? Socialisme ou Barbaries's and Castoriadis's Concept of Revolutionary Work Research
The Power of the Imaginary
Castoriadis, Education and Democracy
The Wreath of Subjectivity and Time
Autonomy and Self-Alteration
Pressen skrev
Wendy C. Hamblet, Professor, North Carolina A&T State University, Metapsychology Online Reviews
"Creation, Rationality and Autonomy is a work greatly needed for bringing the ideas of a very promising thinker to the forefront of philosophical discourse where it truly deserves to stand as a radical rethinking of politics and democracy today, highlighting the power of individuals to actively engage with others to reconstruct the social historical reality that hardens around them as self-evidently inevitable and "the best of all possible worlds." I highly recommend this book to scholars in the field of philosophy and political theory. It is suitable and accessible for use in graduate studies. The piece by Baruchello should be compulsory reading in every senior level Ethics class. However, this work should not be left to scholars. The critical challenges it poses to our general conceptions of world, democracy, politics, justice, and freedom would benefit every thinking citizen of the global community."