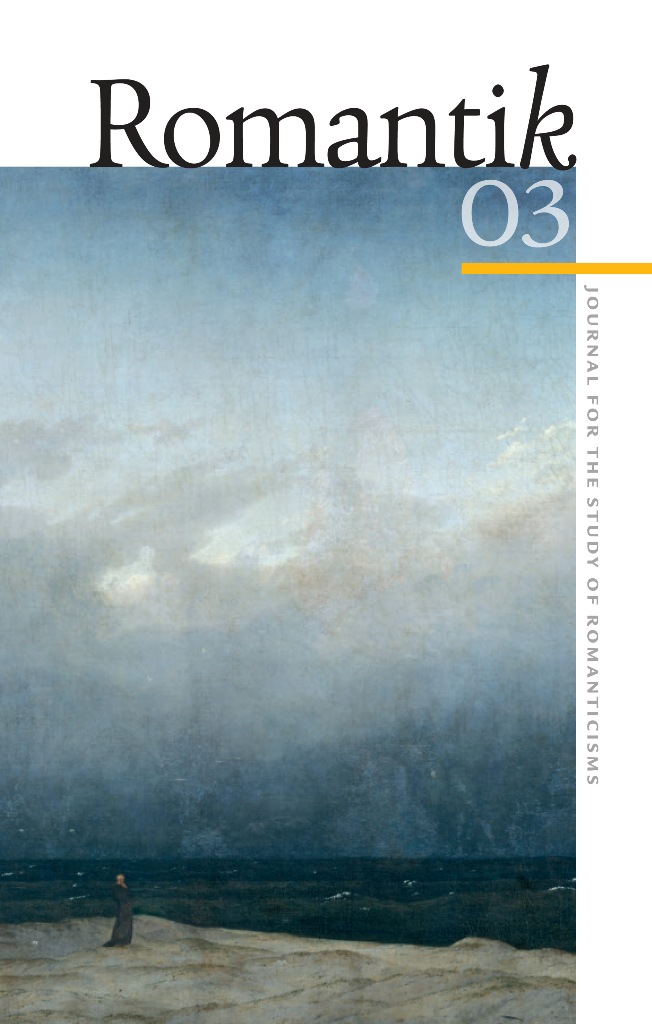 Romantik
Journal for the Study of Romanticisms
Romantik is a new multi-disciplinary journal dedicated to the study of both the cultural productions and the concept of Romanticism. The articles range over a variety of cultural practices from the period (c. 1780-1860), including the written word, visual arts, history, philosophy, religion and theatre. The journal is interested in the plurality of European romanticisms, as well as the connections between them.
Romantik is published once a year. Each issue contains a review section that draws special attention to works published in the Nordic countries, as well as exhibitions with relevance to Romanticism. There will be special issues on different themes of current critical interest.
Please also visit the website and research forum www.romantikstudier.dk. In addition to scanned texts of the issues published in the original series of papers, the website will feature conference alerts, news, exhibitions etc. taking place in the Nordic countries.  
For publication, please send articles to the main editorial contact Robert W. Rix, either as a Word document or in rft-format. Please send a brief description of the author and an English as well as a Danish summary (1500 spaces). 
Subscription price:
Annual subscription price is DKK 150,00
Price per issue:    
DKK 199,95 per issue plus postage
Subscribe by e-mailing our  Customer Services Department or call us at +45 53 55 05 42.   
Editors
Robert W. Jensen-Rix (Aalborg University)
Lis Møller (Aarhus  University)
Karina Lykke Grand (Aarhus  University)
Anna Lena Sandberg (University of Copenhagen)
Editorial Board
Elisabeth Oxfeldt (University of Oslo)
Gunilla Hermansson (University of Gothenburg)
Tomas Björk (Stockholm University)
Lauri Suurpää (Sibelius Academy, Helsinki)
Leena Eilittä (University of Helsinki)
Advisory Board
Charles Armstrong (University of Bergen)
Paula Henrikson (Uppsala University)
Jacob Bøggild (Aarhus  University)
David Fairer (University of Leeds)
Karin Hoff (Georg-August-Universität Göttingen)
Stephan Michael Schröder (University of Cologne)
David Jackson (University of Leeds)
Nordic Co-Editor (first issue)
Leena Eilittä (University of Helsinki) 
Main editorial contact
Editorial Secretary